Aghanloo Old graveyard
Situated about two miles outside of Limavady, Aghanloo Old Graveyard resides in the townland of Rathfad. It sits on a raised hill on a bend in the road overlooking the main road to Magilligan (OS reference

C679279). Aghanloo New graveyard can be found at Aghanloo Church of Ireland in the parish of Drumbane, which was built in 1826.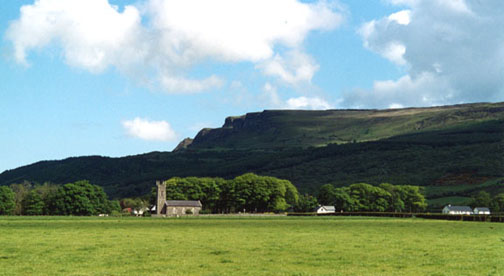 Aghanloo Church of Ireland, Drumbane, Aghanloo
There are many old headstones in this cemetery but many are indecipherable
On a recent visit I copied some of the older headstones that were still legible such as that for the Henry family of Dirtagh, Aghanloo.
Henry of Dirtagh headstone
HENRY:
Erected to the memory of John Henry, Dirtagh, who died June 4 1861 aged 84 years. Also his wife Rachel who died July 18 1862 aged 70 years. Also their son William Henry who died March 20 1891 aged 61 years.
I believe that this Henry family resided on a farm of about 44 acres in Dirtagh that they called Flowerfield. John Henry's wife was Rachel McMillan and they had 12 children eleven of who emigrated to the USA between 1836 and 1860. William remained on the family farm with his parents.
A History of the family was published in 1926 entitled 'The History of the Henry Family of Flower Hill, Ireland' by Margaret Birdenia (main author) and Mattie Miller (added author). Printed Los Angeles, California, 1926.
A portion of the diary of Margaret Birdenia Henry is reproduced in this book and mentions a visit to Aghanloo graveyard to see the engraver put the name of recently deceased William Henry on the family headstone:
1891: June 24th. This morning we drove to Aghanloo burying ground in a Jaunting car to see the engraver put Uncle William's name and inscription on the Henry monument. A nice stone is erected for Grandfather, Grandmother and Uncle William (page 17 Henry Family of Flower Hill).
I have references for two other families who were known to use this graveyard for burials but no stone now exists to confirm their existence:
HILLHOUSE OF FREEHALL
The Hillhouse family of Aghanloo were landlords of a small estate called Freehall, which was subsumed into the McCausland estate through marriage in the mid eighteeenth century. The Hillhouse family Bible noted the following deaths:
"My mother, Rachel Hillhouse died January 7, 1716 and is buried in our burial place in the church of Arclow. My father, John Hillhouse died Tuesday, July 31, 1716 and was buried in the church of Arclow
Arclow is of course Aghanloo. I am fairly certain that the Hillhouse family were of sufficient means to erect a headstone in the graveyard. It does seem likely that one of the headstones that is now indecipherable belonged to this important local family. I have written a short paper on the Hillhouse family of Aghanloo, which is available to read on the link below. The family had origins in Irvine, Ayrshire in Scotland.
http://forrestresearchservices.com/files/Hillhouse.pdf
O'BRIEN OF AGHANLOO
Another family that used Aghanloo Old graveyard according to family tradition was the O'Brien family. The following information was gleaned from a short history of the family who emigrated to Nova Scotia.
O'Brien of Aghanloo genealogy
https://www.irelandxo.com/sites/default/files/Noel%20and%20the%20Genealogy%20of%20the%20O%27Briens%2C%20reduced%20file%20size.pdf