Ballymaclary townland in Magilligan parish
Ballymaclary is a townland in the parish of Tamlaghtard also known as Magilligan. It is a coastal townland of 1.2 square miles named after a local family of the name McClarey. Magilligan was historically church land. At the time of the plantation the Gage family of Northampton got a long lease from the see of Derry. The seat of the family of Gage was Bellerena (formerly Ballymargie).
Baile-mhic-Laeghaire the townland of McLary or McClarey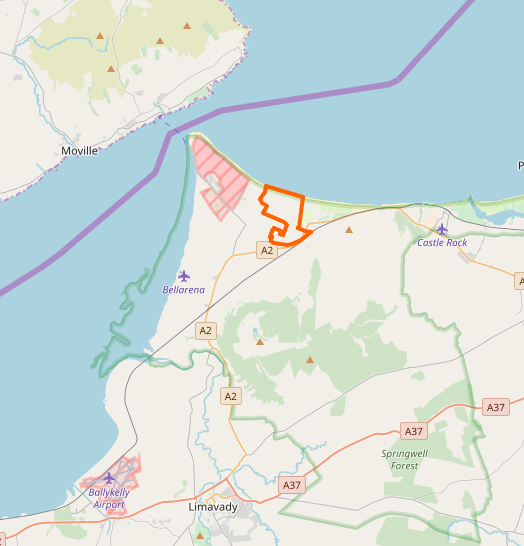 Ballymaclary highlighted with boundary
The following list shows the variation in spelling of the townland through the years 1654-1806. In the mid-eighteenth century the townland became part of the Bacon estate (probably through intermarriage with the Gages). At various times families of the name Cust, Reynolds and Law had interests in the townland as revealed by a number of registered deeds. Around the year 1800 Ballymaclary was subsumed into the Hervey-Bruce estate.
1654 civil survey: BellimcMary
1656 Map: Ballinlary
1659 census: Bally Mclary
1662 Subsidy roll: Ballymclary
1663 Hearth money roll: Ballymcillary
1685 Petty map: Ballinlary
1718 Gage rental book: BallymcAlarie
Registry of Deeds:
1738: Ballymacclary (Bacon to Cust & Reynolds)
1765: Ballymacllary (Bacon & Law)
1782: Ballymaclary (Lane to Cust)
1785 Bacon estate rental: Ballymaclary
1806 Hervey/Bruce estate rental: Ballymaclary