Postcards & Local history - Limavady
James McKay was a stationer and newsagent at 70 Main Street, Limavady in the 1940s. He produced a pack of 12 hand coloured real photographs of Limavady - below is a copy of the cover of the pack and a number of the colored postcards that were part of this collection. Most were photos of landscapes and landmarks in the Roe valley, an area of outstanding natural beauty. These cards were probably purchased by locals in the area as cameras were not common in many homes at that time.
Below are two photographs taken of Linenhall Street at different times and also from different places. Although the second card has a few tears it is an attractive colored picture. The line of red bricked houses on the immediate right was called Albert Terrace.
Below is s very pretty card taken of Main Street, Limavady and it is possible that this is a pre-1900 card probably made in the 1890s. It evokes an image of serener times when life was lived at a slower pace and folk had time to talk to each other on the street. One can see Alexander Memorial Hall with distinctive clock face that later became the town hall. Built in 1872 the Hall was named for Samuel Maxwell Alexander a local landlord. S.M Alexander resided in Roe Park House (see below).
Above is an early postcard of Roe Park House. This was once the property of the McCausland family who called it Daisy Hill. S.M Alexander purchased the house and estate in 1872 for 12,150 pounds. The building still stands today and houses the Roe Park hotel's restaurant and golf shop.
Below is a black and white postcard of Main Street from a different era. There is a closer view of the Town Hall in this picture. Limavady has wide streets since it was a planned plantation settlement built by Sir Thomas Phillips' the English servitor and original landlord sometime in the early seventeenth century.
The last three postcards show Market Street in different time periods. The street is narrower than both Main Street and Catherine Street and was previously called Market House Lane. A Market house existed at the end of the street connecting to Main Street (see 1834 map below).
The bottom two photographs show Market Street from the same direction.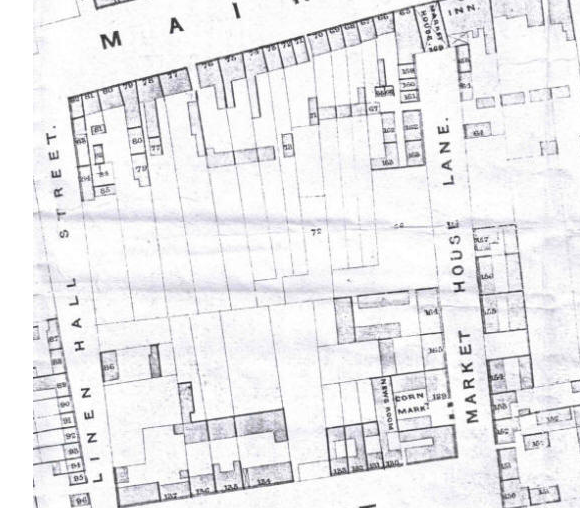 Market House Lane 1834 map